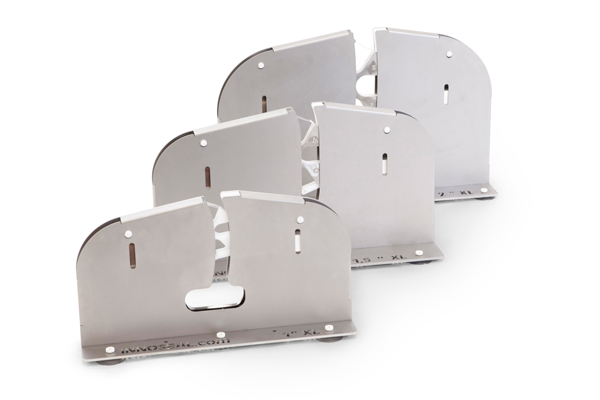 The Sealer – XXL
Description
10 reasons to choose the XXL Sealer:
Three models: 1, 1.5 and 2 inches (i.e. opening diameters of 25, 38 and 50 mm).
Handles bouquets/bunches of single roses in pouches up to 50 mm thick.
Possibility of adding cards and/or plant food sachets in the adhesive closure.
Made of high-grade, impact-resistant stainless steel.
Adjustable base at working height.
Quick and easy operation, with both hands free.
Hands and wrists are spared (ergonomic).
Total safety.
Less clamping thanks to wide tape: flower stem quality remains intact.
Water-resistant adhesive tape with printable paper section.
The XXL sealer is available in the following versions:
– 1″: up to 25mm
– 1.5″: up to 38mm
– 2″: up to 50mm
All three models feature a height-adjustable base.
Adhesive tape bundling ideal for large or specially shaped bouquets or bunches of flowers
A beautiful bouquet is often a unique creation: as many wishes, as many flowers. It's often the work of a professional, handcrafted and composed with care and dedication. Not all bouquets are the same.
That's why we've come up with an XXL series specifically for faster, manual tying of large bunches and/or differently shaped bouquets. XXL sealing machines are ideal, for example, when production is insufficient for the automatic bundling machine, or when large bunches or special shapes make hand tying necessary or desirable.
Compared with today's tape dispensers, you've got both hands free.
Three models
The XXL Sealer works in principle like the Innoseal, known worldwide as the easiest-to-use bag-closing system, but is 1, 2 or even 3 times larger, depending on the thickness of the bunch or bouquet of flowers. XXL Sealing Machines are made of high-grade stainless steel in 1, 1.5 and 2-inch versions for handling large bunches of flowers up to 50mm in total stem thickness.
Safe, simple and fast
The device uses paper and water-resistant adhesive tape to create a closure in a single movement, which can be opened in a jiffy, without the need for knives or scissors. Safer, easier and faster than manual bundling with tape, elastic or string. The tape closure includes a paper section where you can print your own text, logo or product information. And it's possible to add any cards or flower food sachets to the adhesive closure.
Ergonomic advantages
The XXL Sealer is also an excellent choice from an ergonomic point of view. Not only is the operation simple and light, sparing hands and wrists, but the sealer can be supplied with an adjustable stainless steel base for the ideal working height.
In short, the XXL Sealer is fast, efficient and easy to use, and binds the bunch or bunch of flowers with easy-to-open adhesive tape.
Request a quote or place an order